Choose the Right Rug Size
for every room
To choose the right size rug and place it correctly, you'll need to take into account the size + shape of your room as well as your furniture. Here, scale illustrations show you the best rug size for the most common furniture layouts, along with some essential design tips.
Design Tips:
A rug should anchor your seating arrangement; it doesn't necessarily have to fill the whole room. Place at least the front two legs of your sofa and main chairs on the rug.
Leave at least a 1-foot border between your rug and the walls.
Loveseat
Illustrations feature a 72" loveseat.

Standard Sofa
Illustrations feature a 80" full-size sofa.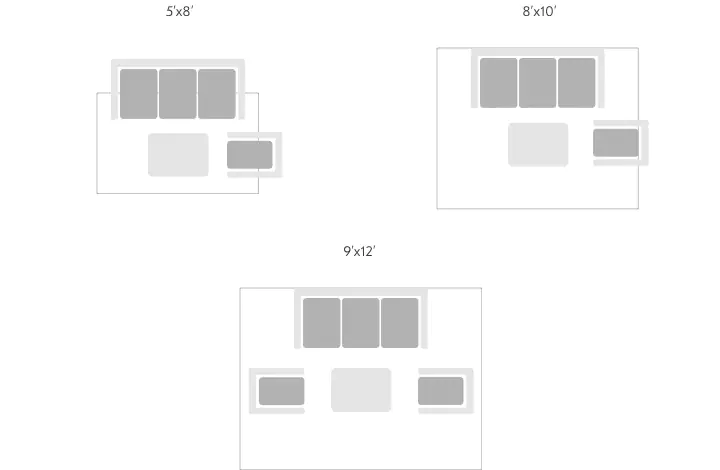 Chaise Sectional
Illustrations feature a 108" chaise sectional.

L-Sectional
Illustrations feature a 107.5" L-sectional.

Design Tips:
Choose a rug that extends at least 2' on each side of your table, so there's room to pull out chairs. Most tables need a rug that's at least 8' wide.
If your dining table is expandable, choose a rug that will still fit beneath the table when it's extended.
Have a round table? You can use a rectangular rug or order one of our custom-sized rugs in a square shape (or be bold and consider a round rug!)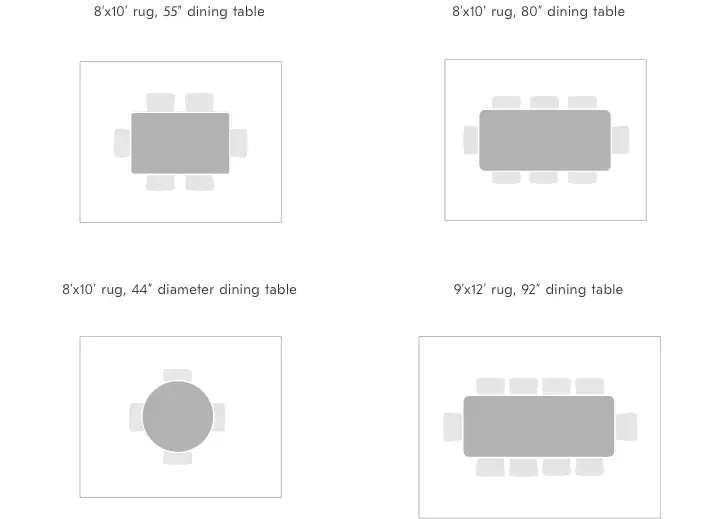 Design Tips:
Depending on the size of the rug, bed and room, place the rug under the front two-thirds of your bed, or under the entire bed and nightstands.
Allow 2' to 3' on each side of the bed to have a soft, warm place for your feet to land when you get out of bed.
Alternatively, place a runner on each side of the bed, or a single runner at the foot of your bed.
Queen Size Bed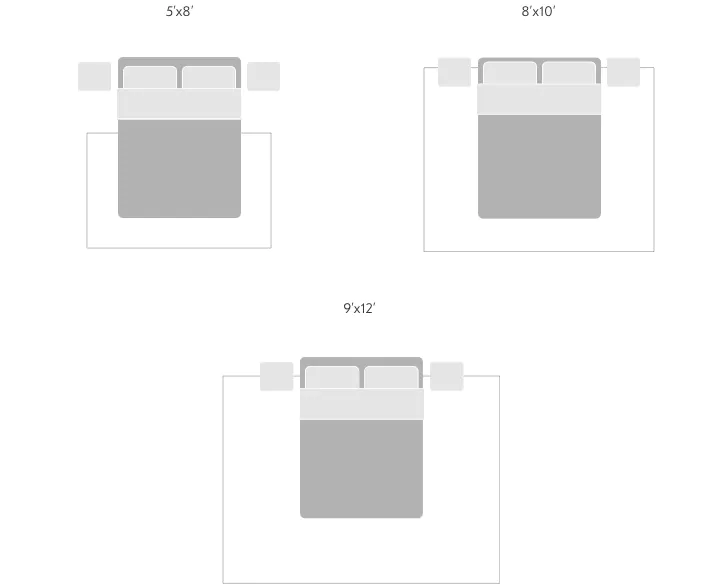 King Size Bed